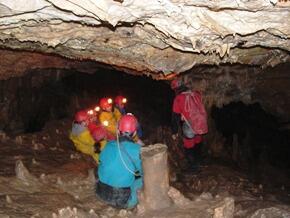 Speleology at Gournier
Equipment provided,
Climbing sports,
Caving
in Villard-de-Lans
This outing can take place with family or friends, and for a half or full day.
It is adapted to your physical ability. This site provides a good introduction to speleology.

The entrance lake asks to make a crossing by boat on 40m, then to make a climb of 6m, and a ledge by hand allowing to arrive in the fossil gallery. From there, a hike allows to reach the access to the river, with in the fossil gallery very beautiful concretions.
For the river, we equip ourselves with neoprene to go up. The progression is made in canyon version.